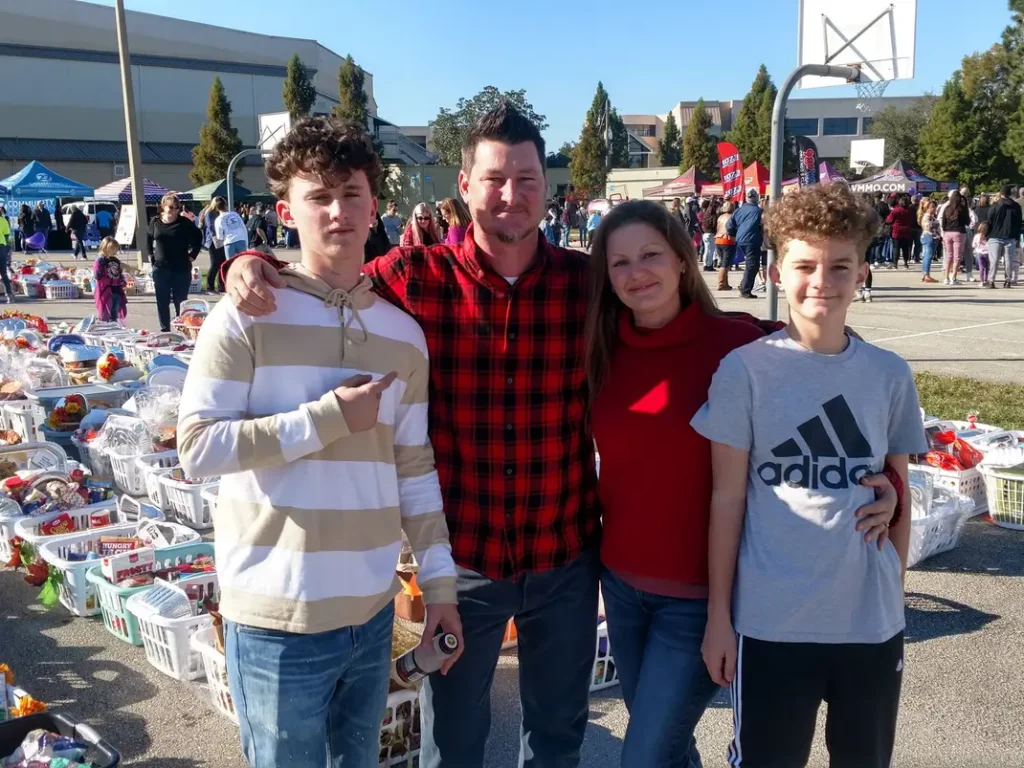 FAITH, FAMILY, AND COMMUNITY
My name is Chris Adkins.  My wife, Cori, and I purchased our home in Ocoee in 2001. We are not perfect, but our Faith, Family and the Community in Ocoee are what guide us to happiness. We have a simple belief – Treat others how you wish to be treated and give back.
For more than 2 decades, my wife and I have raised our children in Ocoee. Nash and Jett attended elementary, middle, and high school in the public school system of Ocoee. Cori and I have volunteered throughout Ocoee and the surrounding areas for 20 years. 
I have volunteered at various sports programs and led some of the best ballplayers in the state. Being a coach is easy but being a mentor, leader, and a good example takes a certain kind of person.  Getting the most out of every person in a respectful manner and ultimately winning is what I strive to do. 
Success and execution happen when all team members believe, respect, and most of all trust their Coach. Thus, allowing my teams to flourish and travel the country preparing for the next level of life and sports is my definition of success.
My wife Cori shares the same passion about giving back to her community.  She dedicated 5 years as PTA President at Ocoee Elementary.  As a parent, if you spoke to her during her tenure as President, you know how passionate she is about our kids.  She took on the great responsibility of managing and re-structuring the PTA by surrounding herself with good dedicated people.  Our community's young children have benefitted greatly. In the long run, that is what matters – the education, mentoring, and the future of our children.
In addition, our whole family has routinely assisted various religious and non-profits in Ocoee and Orlando. Whether it's feeding the homeless or working in the homeless shelters, thrift shops, or just the streets, we have a strong belief in helping others and making a difference.
SUPPORT OUR FIRST RESPONDERS
I am passionate about our Ocoee first responders.  Over the past 2 years, there has been something that has really concerned me with our Ocoee Fire Fighters. Not only has the pay been subpar, but new hire training is lacking (new hires must pay for their own training) and the overall moral has been low. I have been working best I can as a resident to help fix these issues. I have attended every bargaining meeting since I was informed of the issue, fighting for what is right, and for what is best for the residents of Ocoee. I'm grateful for the chance to participate and feel my presence has made a difference but we have more to do.
MY JOURNEY PREPARED ME TO LEAD
Let's talk about my professional career, starting with the fact my first job was at Hardee's in Ocoee 🙂 I have never been a move around allot type of Guy. I'm the type of person who enjoys a challenge and welcomes problem solving and overall numbers. For 12 years, I worked for a Fortune 500 company, Journeys, based in Murfreesboro, Tennessee.  I have a simple approach to work. Lead by example and always do your best because everything we do, good or bad, is a direct reflection of you.
My time at Journeys was unique, especially after I saw my hard work was paying off. I started as a simple P/T employee for some extra cash. I quickly progressed to an Assistant Store Manager due to my ability to work with others and go above and beyond expectations. 
Journeys was all about training, following policies and procedures, and beating sales numbers. When I got promoted to General Manager, I remember being so excited for my next chapter and little did I know that would include more promotions traveling the Southeast and throughout Florida. I was tasked with the aggressive expansion of store locations with site evaluations, store construction, staffing/training, and eventually auditing.  Through the process, I achieved the position of District Area Manager. I served in this capacity for 5 years, moving to North Carolina for 2 years. During my tenure at Journeys, I was recognized as a GM of the Year twice and Area Manager of the year. This was truly a team effort accomplished by my Team as I am only was the "Captain of the Boat". I produced high performing GMs under my training and it became common place for Journeys to send me potential candidates for training either in Auditing or Management. I also was sent to troubled areas to develop plans to address the issues at any specific location. I'm a believer in compromise within the guidelines required.  Over the years, my oversight rewarded my district area teams to be in the Top 1% of earners in the Company in sales gains and growth. I am forever thankful for the positive and sometimes tough learning experiences. However, I am grateful for the amount of training and income that I received as a young man.
PLANTING ROOTS IN THE CENTER OF GOOD LIVING
After having my first child Nash, and losing out on the first few years of his life, and then our second child Jett, traveling and working 60 hours a week wore on me. I wanted to focus on my family. I left Journeys in 2008 to focus on my family and start my first of two businesses that we still own. 
My first venture in 2008 came right before the housing crisis and "Great Recession" – a tough time for any business. Our business specializes in hardscape, pavers and landscape design focusing on new construction and remodeling. Many people lost everything over the next few years but we managed to work through the recession. We positioned ourselves financially by living within our means. So, we diversified and pivoted our business to incorporate housing and property management where we still are operating. We specialize in customer service relations for corporate housing companies from all over the US. 
It's ironic that Covid has changed our business for obvious reasons and we still are not back to where we want to be. During the last few years, it has allowed me to look at the position of Mayor of Ocoee and embrace that I can make a positive difference.  I can take the Center of Good Living to the next level using my strong work ethic and communication skills that I have harnessed on my journey